Skip to Content
Specialized Construction and Repair of Tennis and Pickleball Courts Across the Midwest
At Total Tennis, quality matters. For over 35 years, We've provided universities, schools, municipalities, country clubs, tennis clubs, and private home owners services such as large scale construction projects of new courts, reconditioning courts, installing fence systems, and developing and installing custom protective netting systems.
Services for New and Existing Courts
Our services include the following: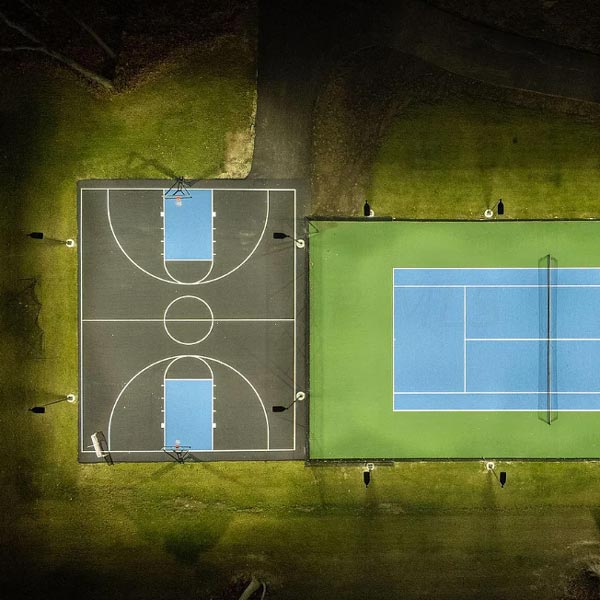 Proper Lighting to Illuminate Your Game
Practice, perform, and compete day and night by choosing us for court lighting. Our team sells lighting products for tennis, pickleball, and basketball courts, extending the amount of time your space can be utilized. Our product line is offered for half- and full-court, shining smooth light across the surface with minimal hot spots and glare. We offer a wide range of light poles, fixtures, light mounting, and accessories from top vendors, ensuring a safe and comfortable experience for players.
Seamless Installation Process by Top Professionals
Total Tennis has proudly served schools, colleges, universities, country clubs, and private residences since 1985. We've succeeded by following proven processes and meeting the highest quality standards. These standards are met by following guidelines from the American Sports Builder's Association, manufacture's recommendations, but also innovative internal processes we've developed over three decades. We don't live by the "that's how we've always done it" model that is rampant in the industry. The culture we've developed is to question everything so our clients consistently get better results. The manufacturers we partner with have built reputations for outstanding support and excellent warranties.
Make Your Vision a Reality With Total Tennis